Sunday, Zachary, Luke, Thomas, Tony, and I braved the cold and rain to try the food at Marco Polo's Marketplace, which replaced Ristorante della Piazza this year. As we have reported previously, San Marco's new eatery has a variety of stations, including Mediterranean Market, Italian Kitchen, Stone Hearth Oven, Asian Grill, Garden Favorites, and Desserts. While we were able to get pictures of the interior on Pass Member Preview Day, we did not have a chance to sample the food until this past weekend.
Thinking it might be useful to share our opinions of all of the new dishes, we decided to rate each entree on a five point scale (one being the worst and five the best), judged against normal BGW food (not cuisine from special events like the Food & Wine Festival). So, below is a review of the items that were not previously available elsewhere in the park.
---
Mediterranean Market
We were all very excited to sample the entrees from this station, and we were not disappointed. The quality of the sides, however, was mixed. The potatoes were inconsistent: some pieces seemed undercooked. The tzatziki sauce did not taste the way it does in other Lebanese, Greek, and similar restaurants. The herbs on the zucchini, however, were great. We did not get the Deconstructed Pita, as it seemed to use the same components as the platters.
Rotisserie Chicken
5/5

This was one of our favorite entrees at the restaurant. The meat was juicy and flavorful. In fact it was the best chicken we have eaten at Busch Gardens Williamsburg, including at the Food & Wine Festival.
Rotisserie Lamb
4/5

We enjoyed the lamb, as well. While it was not quite as good as the chicken, it was well-seasoned. We agreed that we would prefer a higher quality cut at a higher price, however.
Rotisserie Beef
3/5

The beef was our least favorite dish at this station. It lacked flavor, but it was tender and we did still like it.
---
Italian Kitchen
We decided not to do a formal review of the Italian food, as the menu has not changed. We did taste the Italian Sampler, however, to see if there were any noticeable changes in the dishes. In our opinion the pasta was slightly less soft. Other than that, if you liked the park's Italian fare before, you should be pleased with this station.
---
Stone Hearth Oven
Although we were very excited to try these baked sandwiches and flatbreads, we were unfortunately disappointed. Across the board, we felt the dishes oddly lacked interesting and flavorful sauces. Hopefully, they will improve as the season progresses.
Pesto Chicken Panini
2/5

We were very surprised, when we realized that they has opted to use breaded chicken in this sandwich, especially given how good the rotisserie chicken is. That combined with a weak pesto sauce and entirely too much butter, created an unpleasantly greasy and bland dish.
Italian Panini
2/5

Our first impression of this sandwich was that it's presentation was poor. That could be forgiven, if it tasted great. Sadly, however, it, too, was coated in butter and lacked spice.
Meatball Sub
2/5

Once again, we were disappointed in the sauce on this offering. Unfortunately, the sandwich was not redeemed by either the meatballs or the bread, both of which were strangely tough.
Sausage & Pepperoni Artisan Flatbread
2/5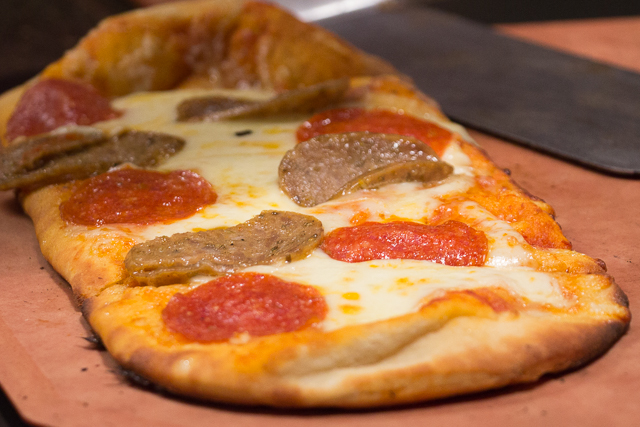 Rather than try all three flatbreads, we picked the Sausage and Pepperoni as representative of the three options (Five Cheese; Sausage and Pepperoni; and Spinach, Tomato, and Artichoke). This entree wasn't bad. It tasted like a typical, mass-produced pizza.
---
Asian Grill
We really liked this station, and it is definitely somewhere we would happily eat again. We did feel that the white rice was far superior to the fried rice, which was mushy and almost gummy. The vegetables, however, were great: they were very well prepared, with tons of flavor and crunch.
Mongolian Beef
4.5/5

The flavor of the sauce and quality of the beef made this a favorite for many of us. There really isn't much to say other than it tasted great.
Mongolian Chicken
3/5

The chicken version seemed to have less flavor than its beef counterpart, although there was a fair amount of spice. This was a good dish, although not quite as well-liked.
Orange Chicken
4/5

My initial impression of this entree was that it lacked heat. We soon discovered, however, that the intensity grew, as we ate. Overall, this dish had great flavors.
Vegetable Lo Mein
2/5

This dish puzzled us: it seemed to be made from Italian noodles, vice Asian. Odder still, this was the only truly al dente pasta at the restaurant. The taste confused us, as well: it started too sweet, and then slowly developed some heat. While it is great that the park is offering vegetarian options, this is not one I would choose.
Spring Rolls
1/5

The spring rolls were barely edible, until we dipped them in the accompanying sweet chili sauce. Even then they were really bad. Several of us really liked the sauce, however.
---
Garden Favorites
Many of these salads can be found at other park eateries, so we did not review them. Below are the garden sides that we tasted.
Pita & Hummus
3/5

We disliked all of the pita; it tasted almost like white bread. The pita chips were chewy in some places and overly crunchy in others. The hummus, however, was fairly good.
Seaweed Salad
3/5

The seaweed salad is a bit visually intimidating, but we applaud the park for putting such a potentially controversial item on the menu. The dish, itself, had a strong sesame flavor. We thought it might be best served on top of some other meat dish, perhaps. Regardless, if you like Asian food, we recommend you try it.
Cucumber Salad
2/5

This salad seemed to be missing something, maybe a pickled flavor? The cucumbers overwhelmed whatever they were tossed in.
Tabbouleh
2/5

The tabbouleh did not taste as I expected, based on my experiences at Mediterranean restaurants. In fact, it had flavors reminiscent of scented soap.
Pasta Salad
2/5

Once again, this salad did not have the accustomed flavors. Specifically, it did not seem to have enough vinegar. Unfortunately, the pasta was a bit mushy, as well.
---
Desserts
Marco Polo's Marketplace offers most of the usual BGW desserts. It has a few signature sweets, as well, which we were delighted to try.
Signature Italian Dessert Trio
4.5/5

We really enjoyed everything on this sweet, little plate. The pana cotta (5/5), which is one of our favorites at the F&WF did not disappoint. The strawberry sauce was perfect with the creamy custard dish. The budino (4/5) was well-liked, but slightly grainy. One concern I had was that none of us thought it tasted like caramel; it seemed more butterscotch or possibly maple. Finally, the tiramisu (4/5) was excellent by park food standards. We thought it had strong flavors and the right textures.
Customized Cannoli Station
4/5

I looked forward to this dessert all day. I love cannolis, and the options at the toppings bar looked delicious. We tried both the chocolate and strawberry fillings; vanilla was unavailable. I really like the chocolate, but we had mixed experiences with the strawberry. One cannoli had a subtle strawberry taste, while another from a different batch had a stronger and much sweeter flavor. Admittedly, they were less tangy than I normally get in restaurants, but we really enjoyed them nonetheless.
---
Overall, we are thrilled with Marco Polo's Marketplace. The variety of cuisines provides options for a wide variety of palates. Many of the dishes are delicious, and we are looking forward to improvements in others, throughout the season. The desserts are particularly enticing. The trio and cannoli station should both prove to be huge draws. I believe this restaurant will be a new go-to choice for all of us.