It is May and that means Busch Gardens Williamsburg's 7th annual Food & Wine Festival is upon us. As has become our tradition, the BGWFans Tasting Team spent opening weekend trying every food and non-alcoholic drink option on the menu. This two-part article will highlight our recommendations and share our scores for everything by booth.
---
Once Again…
ParkFans.net members belsaas, Gavin, Thomas, and Zachary joined my friend Renee and me as we sipped and nibbled our way around the park over the course of two days. As in the past, everyone was required to eat and score everything. We also continued the tradition of abstaining from alcohol (other than those free beer samples at Grogans) to protect our palettes.
After much discussion we did make one critical change, however, deciding to move from our previous five-point scale to a 10-point system. We used the following loose parameters to assign grades:
1: Dangerous to eat; could cause bodily harm
5: Meh
10: Better than Cats; would order it over and over
This year's event includes fewer dishes, but dramatically more drinks. As a result of this adjustment, we decided to forgo our usual Taster's Choice and Honorable Mention categories, and only provide Best in Booth and Best in Show recommendations. We are, however, introducing two new sections, which will list the highest scoring items and highlight dishes from previous events that the Tasting Team would like to see brought back.
---
Into the Breach
In this two-part article, you will find our 2019 recommendations. Part One will include the Best Booth, the Most Improved Booth, all Best In Show categories, the taster's notalgia picks, and the top-scoring dishes. Part Two will feature all of our scores and Best In Booth awards.
The highest scoring savory and sweet items were all (yes that is more than two) awarded Best In Show. If a kiosk offered more than one entree or dessert, we identified a Best in Booth as appropriate. We also selected a Best in Show non-alcoholic specialty beverage this year.
So, about that reference to all best in show items.  This year we had a tie. We generally try to avoid selecting two dishes for a single category, but after much deliberation, the team agreed that we really wanted to award both offerings the title.
Finally, I should provide the usual disclaimer: Busch Gardens Williamsburg's Food & Wine Festival is consistently inconsistent. The same item will come out very differently even within the same day. So, our Best In Booth (Savory) item could be inedible next weekend. We decided long ago to judge everything based on what we are served, when we are conducting the review. It is the only way for us to be consistent, and someone in this equation has to be.
---
Best Booth
Although the Caribbean booth was fairly weak in 2018, with a new name the Jamaican placement shot to the top of our rankings reclaiming its old status of best overall.
The chicken, always a low point for the location, was dramatically improved by pulling the meat and replacing the Trappers BBQ sauce with real jerk flavors. The Gamba Fritters took Best in Show, and everyone enjoyed the Pineapple Rum Upside-Down Cake, as well. The only controversy was the Ginger Limeade, which please some more than others with its very strong–perhaps overwhelming–ginger taste.
---
Most Improved Booth
The Mediterranean Booth similarly rose from the ashes, impressing everyone with its flavorful menu. The Lamb Burger Sliders (Best in Show) and the Spanakopita (Best in Booth) both received very high scores for their strong and well balanced flavors. The Dolmades were a pleasant snack with bright dill and lemon evident in each bite. While we didn't dislike the Loukoumades, serving fried dough from the Christmas Town doughnut stand seemed uninspired at best. We all wished that the Culinary team had stuck with the traditional baklava instead.
---
Best in Show: Savory
The Gamba Fritters and Lamb Burger Sliders tied for the top prize this year.
The fritters, a perennial favorite at the Caribbean Jamaica booth, did not disappoint.  Unlike their Virginia cousins, they were perfectly fried, and paired nicely with the tangy sauce, which boasted both some sweetness and a hint of heat.
Gamba Fritters
Fried shrimp dumpling with Pickapeppa dip
| | | |
| --- | --- | --- |
| Booth | Price | Rating |
| Jamaica | $5.50 | 9.17/10 |
The entire plate came together brilliantly for the Mediterranean lamb dish. The cool and refreshing orzo balanced the strong flavors on the sliders, creating the perfect mini-meal.
Lamb Burger Slider
Seasoned ground lamb on pita bread with feta cheese spread, cucumber, tomato & olive
| | | |
| --- | --- | --- |
| Booth | Price | Rating |
| Mediterranean | $6.25 | 9.17/10 |
---
Best in Show: Sweet
Although the competition was not particularly stiff this year, the Tiramisu deserved this honor. The flavors were spot on, from the slightly bitter espresso to the tangy cheese. We all enjoyed this creamy treat.
Tiramisu
Italian parfait with sweetened mascarpone cheese & layered with espresso-soaked lady fingers
| | | |
| --- | --- | --- |
| Booth | Price | Rating |
| Desserts | $3.50 | 8.83/10 |
---
Best in Show: Non-Alcoholic
Although this seemed like the Year of the Lemon and Limeade, Japan's Bubble Tea ended up with the highest score. The bobas were much more interesting than in 2018, filled with a sweet (possibly lychee) juice. The tea, itself, tasted more like my morning latte, proving to be a pleasant milky beverage that pleased everyone.
Bubble Tea
| | | |
| --- | --- | --- |
| Booth | Price | Rating |
| Japan | $4.25 | 8.33/10 |
---
Runners-Up
In addition to the Best In Show selections, the team agreed for the first time to share a single list of the top scoring dishes. While this set excludes some of our favorite drinks, like the Strawberry Lemonade and Brazilian Lemonade, it does include both savory and sweet items ranked from highest to lowest.
Spanakopita
Spinach & feta in crispy filo dough with spicy, lemon sauce
| | | |
| --- | --- | --- |
| Booth | Price | Rating |
| Mediterranean | $4.75 | 9/10 |
Fried Shrimp Taco
Deep fried shrimp tossed in sweet chili sauce with pico de gallo & cilantro-lime slaw
| | | |
| --- | --- | --- |
| Booth | Price | Rating |
| Mexico | $5.00 | 8.83/10 |
Jerk Chicken Slider
Pulled Jerk Chicken on a sweet bun with mango salsa & Cilantro Lime Slaw
| | | |
| --- | --- | --- |
| Booth | Price | Rating |
| Jamaica | $5.25 | 8.5/10 |
Lettuce Wrap
Vegetables & tofu wrapped in tender butter lettuce with toasted almonds & sweet chili dipping sauce
| | | |
| --- | --- | --- |
| Booth | Price | Rating |
| Japan | $4.25 | 8.33/10 |
Churrasco
Grilled beef with chimichurri sauce
| | | |
| --- | --- | --- |
| Booth | Price | Rating |
| Brazil | $6.25 | 8.17/10 |
Beignets
Fried doughnut squares topped with powdered sugar & drizzled with caramel
| | | |
| --- | --- | --- |
| Booth | Price | Rating |
| French Quarter | $5.00 | 7.83/10 |
Dolmades
Rice & herb stuffed grape leaves with Tzatziki sauce
| | | |
| --- | --- | --- |
| Booth | Price | Rating |
| Mediterranean | $4.25 | 7.83/10 |
Bananas Foster Cheesecake
Vanilla & pecan-crusted cheesecake with orange rum caramel sauce & sliced banana
| | | |
| --- | --- | --- |
| Booth | Price | Rating |
| French Quarter | $5.00 | 7.67/10 |
Mushi-Gyoza
Japanese-style steamed chicken dumplings with citrus ponzu sauce
| | | |
| --- | --- | --- |
| Booth | Price | Rating |
| Japan | $5.25 | 7.67/10 |
She-Crab Soup
Crab bisque finished with sherry, Old Bay crostini & Chesapeake blue crab salad
| | | |
| --- | --- | --- |
| Booth | Price | Rating |
| Virginia | $6.00 | 7.33/10 |
---
Wish You Were Here
Over the weekend, the idea of an all-star booth (FoodVault?) to bring back old favorites came up a few times. We all understand that the park needs to rotate items and styles in and out of the festival to keep the event fresh and interesting, and to address differences in popularity and sales. That does not mean, however, that we don't miss some retired options and wish for their return.
So, we agreed that each member of the team would select one item from previous years to nominate for our mythical FoodVault. There are many other entrees, appetisers, and desserts that we would gladly see come back, but we didn't think a list that long would be as effective. In alphabetical order, here are our nostalgic picks:
---
Thomas' Pick:
Chicken Paprikash
Ever since the Austria booth became the first casualty of the ever-evolving Food & Wine roster, I have yearned for the return of my favorite dish: Chicken Paprikash. While the Linzer Torte and Schnitzelwich received new life in the Germany booth the following season, the classic stew which I loved so dearly was no more. Even with the Coq au Vin and Wafel met Waterzooi still being served at France and Belgium, respectively, neither of those chicken dishes could quite match the perfect blend of tangy sour cream, savory chicken, and smoky paprika offered in Austria. The hearty stew was certainly not the most refreshing thing on a hot summer day, but I nevertheless enjoyed its classic comfort food qualities.
This year's event is still a very solid showing for Busch Gardens' original goal of providing enjoyment for foodies everywhere. But I do find the collection of booths now lacks chicken stew of any variety and if we are looking for potential returning items from the past, I say we needn't look any further than the original champion.
---
Gavin's Pick:
Ginger-Lemongrass Custard
While more Asian-inspired than strictly Asian, the Ginger-Lemongrass Custard had a simple presentation: a basic plastic cup, a small serving of custard, and a single, unassuming vanilla wafer cookie.
Despite being this understated, it's still one of my personal favorite dishes that has ever graced F&W. From the light and creamy texture, to the perfect balance of ginger and sweetness with just a hint of lemongrass, it was the perfect summertime treat. The custard-bias is real.
---
Nicole's Pick:
Heart of Palm Salad
I have a confession to make: I have a taste aversion to all seafood and fish, dating back to having the flu as a child. While I believe I have done a very good job preventing that condition from interfering with my ability to review the Food & Wine Festival, that is not why I raised this shocking issue. My real point is to highlight how amazing the Heart of Palm Salad must have been to be so beloved by someone who doesn't like shrimp.  My memories of this dish are so happy, in fact, that I selected it over everything in the underappreciated, cruelly sabotaged, and sadly short-lived India booth, which was probably my all-time favorite kiosk (where is my gorgeous elephant?).
The dish was fresh and light; a perfect snack on a hot day and a delightful accompaniment to any spicy entree. The vegetables were crunchy, and the sauce had a delightful tanginess. It was easily my favorite offering at one of the most popular booths.
---
Renee's Pick:
Köttbullar
While Swedish meatballs may seem too hearty for summertime in Williamsburg, they were a great savory treat from the long absent Scandinavian booth. The lingonberry jam was an authentic addition that paired well with the rich creamy gravy.
The köttbullar provided a great go-to dish when we were looking for some satisfying protein to anchor our tasting. I would love to see them return for an encore.
---
Zachary's Pick:
Ratatouille Parfait
I had a really hard time with this question, as many of my favorite dishes have been removed over the years—Gravad Lax Rarakor, Coq au Vin, Venera con Jamón, and the Pizzelle Cookies, just to name a few. In the end though, I settled on the now-defunct French booth's Ratatouille Parfait from in 2016.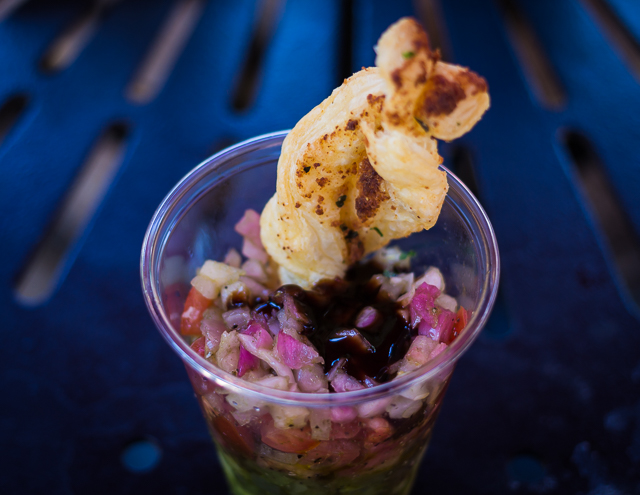 This dish replaced the truly abominable (as in, we-couldn't-keep-it-down-bad) Ratatouille from 2015. This new, interesting, innovatively-formated Ratatouille solved all of the many issues that faced its predecessor. Busch Gardens artfully converted a normally-heavy, difficult-to-eat, entrée into a light, refreshing, easy-to-consume-on-the-go, summertime dish. The fact that the Ratatouille Parfait lasted only lasted a single season makes it even more deserving of this highlight in my opinion.
---
Belsaas' Pick:
SPAM Slider
Admittedly, growing up in the Northern Plains made SPAM a regular part of my diet, but it wasn't simple nostalgia that made me love this dish. The salty SPAM with the pineapple ring and sriracha mayo on a sweet roll with a pineapple-coconut slaw (which I will insist goes inside the slider, North Carolina style) was delicious, and oh so cravable.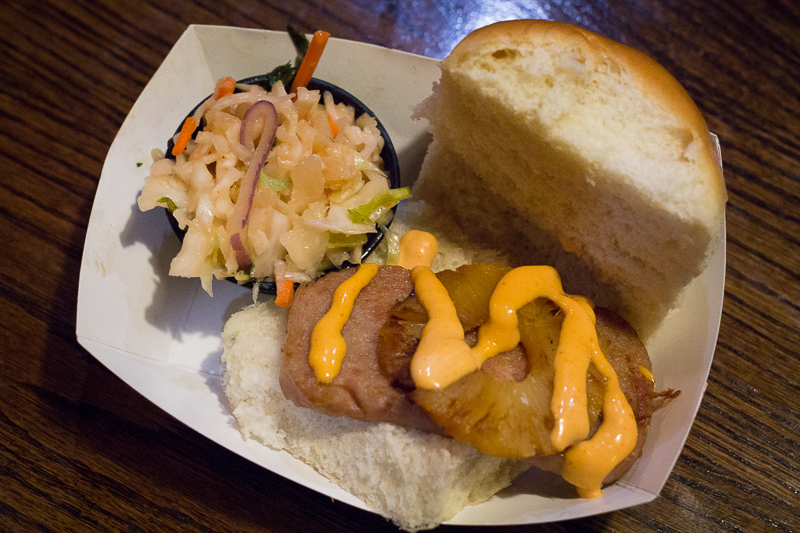 It was like a fresh island breeze on a hot summer day, but was hearty enough you felt like you got your money's worth. Paired with the hibiscus lemonade this was my favorite thing at F&W for years, and its sudden disappearance is as surprising as it is disappointing.
---
Check back next week for our annual Comprehensive Review, in which we will provide scores and photos for every menu item, as well as awards for Best in Booth.
In the meantime, follow us on Facebook, Twitter, and Instagram, and join the conversation on ParkFans.net.